Remembrance Sunday has been an important day for many years now. It is the closest Sunday to Armistice Day – the 11th day, of the 11th month. It was on Armistice day, at 11:11, that World War I was officially over. This year marks 100 years since the start of that war that would become known as 'the great war'. Never before had conflict been seen on such an immense scale.
Each year a parade is held on this day to remember the brave men who m
ade the ultimate sacrifice to keep future generations free.
Seen below are the City of Gisborne Cadets having a nice cold drink after parading in the hot sun to show their respect for those who went before them.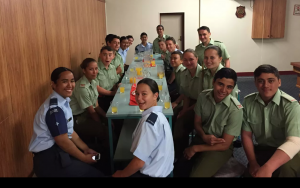 This year saw the added bonus of Cadet Goodyer being given the opportunity to participate in the parade from above the ground – by being part of the winged salute, in which an aircraft flies over the parade at 11:11. A rare experience, and one which left him grinning from ear to ear afterwards. While it's a little difficult to get photos of him in the aircraft against the sun, and even harder to get in-flight photos in an open-cockpit aircraft, we did manage to get a few.